Testimonials
Nancy G., Buyer, Oakland
I loved working with Ellen. She was flexible, prompt and knowledgeable. Ellen knows about houses and how to quickly judge their soundness. She knows what to look for in a foundation, and will not hesitate to check things out. Also, Ellen can get the job done. As you know, the market is currently more complicated than during the boom a few years ago. It takes someone with skill, patience and a good reputation among other agents. Ellen has all these. I think you'll enjoy working with Ellen. I have sold one house, and have bought two in the Bay Area, so I have some experience. Ellen was by far the best agent I worked with. I definately recommend her.
David Riffert, Oakland
I just wanted to thank you again for all that you have done to make purchasing the condo at 303 Adams and getting set up there, such a positive experience! I hope you get a lot of return business because you really earn it. I appreciate all that you have done and hope your brokerage, recognizes what a wonderful realtor they have in Ellen Lynch.
Jimmy, Richmond
You are the best realtor! I have been telling all my friends about you. You've worked so hard on my behalf, and I cannot thank you enough. I feel I got the best deal in the world, thanks to your great work and dedication. I look forward to working with you again!
Jessica, seller, Oakland
I chose Ellen, a colleague of mine, to sell my home. I had many realtors to choose from. I already knew Ellen was successful in her transactions and a lot of fun to work with. I always enjoyed my dealings with her. Ellen did a fantastic job of marketing and selling my place. I got the offer I wanted, and the proceedings went well. I could not have asked for more. Ellen's service and care were stellar. She is a creative and resourceful person with good sensibilities, and I thoroughly enjoyed working with her. I highly recommend Ellen if you are looking to sell or buy a home.
Martie, Oakland Seller
I retained Ellen to sell my dear home, after careful consideration of potential agents to choose from. I am very pleased to say I made a wonderful choice! Ellen was both enthusiastic and well prepared to jump in during our "declining" market and get the job done. She was well versed in the current market and knew details about every property that had sold in the area. Ellen was a walking encyclopedia of information about Oakland and my neighborhood in particular. . She highlighted the marketability in ways I never would have dreamed of. I felt I was given enough solid info and insight to be comfortable in arriving at a list price and course of action that felt right. Ellen knew fantastic people to call to help get my home ready for sale: There had been an old mysterious electrical problem in one area of the house, and with one call from Ellen, her favorite electrical contractor John was out to take care of the problem right away. Within days Ellen arranged to have the the windows washed, and a pre-inspection complete to disover any surprises prior to going on the market. I agreed to her having a professional staging consultation to "tweak" my own furnishings and artwork, and was amazed at the difference this made! Ellen went around the house and touched up the paint . She not only saved me money, but convinced me she enjoyed doing it. She was certainly talented! I felt very well taken care of throughout the process of selling my home with Ellen. She never failed to address issues calmly, often with humor. I am sorry I am moving out of the area, and as such will not have the pleasure of utlizing Ellen's skills and services in finding my next home! She'll find me a referral, but it won't be the same.
Lakisha, Buyer, Oakland
You really came through for me and I greatly appreciate it. It was a pleasure working with you.
Janki DePalma, Oakland
My husband and I were extremely happy with Ellen's services to sell our home. Ellen is very hands-on, knows how to maneuver the process and took the time to work out a strategy with us. Additionally, she is very familiar with Oakland and its various neighborhoods. The market was starting to change when we sold our house, but with her help we were able to get a great price for our home and ensure that the right people bought it. We interviewed several realtors and what impressed us the most was Ellen's ability to listen, explain, and make reasonable promises. Selling a home is a roller coaster ride at times, and you need someone who is able to handle the ups and downs gracefully and give you the services you need. We were very pleased and would happily recommend her services!
Tim Alderman, Buyer and Seller Oakland Microwave Engineer
So there you are, staring at the computer screen, with a burning question in your mind: How do I choose a real estate agent? Whom can I trust?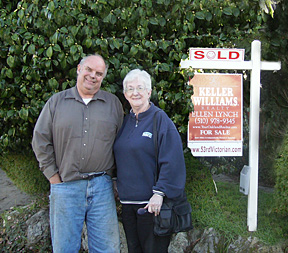 Agents are people, and people matter most in the field of real estate. Let me tell you something, from first hand experience: If it's an existing house that you are either selling or buying, and it's in Oakland California, you've come to the right place. How would I know? I turned to her for help with both. I wanted to trade houses and do it right, so I chose Ellen Lynch.
AS A BUYER: My escrow was a probate, with court confirmation required. The family that had owned it for a long time was out of state, except for one sibling who lived in the house. Ellen had shown us the hidden treasures under all the cooties and pink wallpaper, and we had our vision for the house. Ellen stayed on top of every detail during the escrow, making sure the sibling was packed, and even called the movers as the deadline approached. Ellen made sure everything got done alright, and we were able to take possession of our new home on schedule.
AS A SELLER: Call Ellen! With well over 1500 homes for sale in Oakland and prices dropping in our beloved neighborhood, we went on the block with the home I had owned for twenty five years. We followed Ellen's advice for staging and completed the leftover projects. Ellen even pitched in with her considerable carpentry and painting skills! Ellen held our house open every Sunday and during an evening "twilight tour" with help from her capable associates. We consistently had large numbers of prospective buyers come through. Her marketing and outreach was customized and superb.
When we received an offer it was quickly followed by a second one the very next day. We followed Ellen's advice and managed to get BOTH parties to counter offer, one at our price, one just slightly less.
It's not just knowledge of the local market. Nor just knowing the City of Oakland's maven for historical properties, the one who helped Ellen dig up the nitty gritty on who lived here in 1889. It's not just dealing with other realtors in a way that fosters cooperation. Nor is it just knowing the very best upholsterer, or the wholesale place with good prices on cabinets or sinks.
It is all of these things, coupled with committment and hard work that only true passion can bring, that's what makes a superb agent. So, if you're buying, selling, or trading, you can't miss with Ellen Lynch.
And you can quote me on this: when it comes to Real Estate, Ellen Lynch is the one to trust.
Christopher, Oakland
When my wife and I began our journey to find and purchase our first home, we asked Ellen to be our realtor. It was a smart move. Ellen was immediately on the same page with us, was responsive to our needs, and was available to show properties. She never hesitated to crawl under a house or read a report to find out further information about a home. When we found the house we wanted, Ellen skillfully negotiated the offer on our behalf, and then saw the process through, continuing to assist us after the escrow closed. Ellen was able to quickly arrange for estimates from excellant tradespeople, so my wife and I could get a few things done to our new home, prior to moving in. Every concern we had was addressed by Ellen, and our expectations of what a realtor could and should do, were exceeded by her. The stressful times were few due to Ellen's ability to keep things calm and manageable. We are pleased to recommend Ellen to anyone looking to buy or sell a home.
Sharon, Haddon Hill, Oakland
Ellen knows houses, knows real estate, knows Oakland. She is a wonderful person. She will give you her all, and work hard for you. Ellen will bring in other resources to help, and find "the thing" you need that screamed, "oh! how could I have missed that?" Her heart, her vision, and common sense approach to finding answers and solving problems for clients make her special. Ellen is a great person and real estate professional.
Jill and Willy, first time buyers
Thank you Ellen! We bought our first home and love it. We had been looking for so long we almost gave up, but you encouraged us to hang in there. As you well know, we did end up finding a home that we were able to buy, and we are still in a bit of shock. We are grateful for your help, encouragement, ethics and sound advice which led to ultimate success. Your knowledge about the whole process was encouraging. It was not nearly as stressful thanks to your calm and steady presence. Your network of service people is incredible, and helped us so many times when we were in need. Thank you for getting us a great lender who taught us so much more about home financing than our bank ever did. We urge anyone considering buying a home in Oakland to contact Ellen. We don't know how she has so much energy! She will work hard to find the house best suited for you and will keep your interests in mind at all times.
Cathy S., Oakland
Ellen helped me become comfortable with the idea of owning my own place, which seemed very scary and novel at the time. She was tactful but serious in convincing me I should buy a home. I now have income from the downstairs rental, which is great. I expect I will live here forever. If I were to move, I would have Ellen sell my home. You cannot substitute experience and hard work. Ellen is down to earth, and all I can say is, "talk to her!".
Terri, Lakeshore, Oakland
Ellen cares. She knows what she is doing. I find her a delight to work with. I would refer Ellen to anybody I know and like. She first came to me via an associate at work who was very happy with her. You will enjoy Ellen, and be glad for the experience of having a quality person represent you.
Lorraine, Oakland
I recommend Ellen as a knowledgeable real estate professional. She has a command of the intricacies of home ownership and house building structures. I was lost with the different reports, and Ellen was able to decipher the language. She advised me in a sound way. I trusted her, and I was correct to do so. I enjoyed her easy, yet straight forward style. I would enjoy knowing friends and associates employed her services.
Juan, Oakland
We are happy to recommend Ellen to anyone looking to buy or sell a home. Ellen helped us buy our first home, a multi unit building. She recommended a good mortgage broker as well as good home inspectors, and made sure we knew what was going on at all times. We are so happy we decided to buy this property, as it has turned out to be perfect for us. We thank Ellen for helping us through the process, every step of the way. We love our property, and as our children grow, we'll keep this as an investment and buy our "dream home." We'll be calling Ellen to help us find our dream home.
Serena and Phil
Thank you for finding our first home for us. Thank you for directing us to a good lender so we got a great loan. Thank you for taking such good care of us. We will stay in touch.
---
© 2023, Ellen Lynch. BRE # O1417289. All rights reserved.
Ellen Lynch provides real estate services in the Grand Lake, Lake Merritt, Adams Point,
Haddon Hill, Bella Vista, Eastlake, Brooklyn, San Antonio, Glenview, Laurel, Maxwell Park,
Fruitvale, and King Estates Neighborhoods
Site design and maintenance by 5 happiness webmaster